Building Character is the Primary Goal in a Quality Education
Building Character is the Primary Goal in a Quality Education
The Unique Philosophy of American Heritage Teaching: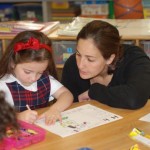 At American Heritage Academy, we instill in our staff that "education comes from within." True education is a scholar's internal discovery and as such, their own doing. Meaningful learning cannot be achieved by the use of external forces or third party persuasion. Rather, it is an internal awakening that quenches a scholar's hunger for knowledge.  This principle element of teaching is misplaced by many in the field of education today. Continual busy work and unlimited worksheets used in repetitive learning cannot achieve the same results as personal drive. While it is possible to teach to a test, "learning for life" comes only to those who choose the personal responsibility to be teachable. This personal empowerment to learn, along with a hunger for knowledge creates unlimited achievements. Conversely, many of today's "mandated" teaching styles and diluted curriculums prevent passionate learning.
Realizing the truths in education, changes the dynamic of the teacher/student role. In traditional academics, it is the responsibility of the student to adapt to the style of a teacher. Failure is most often placed upon the child in these circumstances, but at American Heritage Academy we train our staff to know the personal traits and motivations of a scholar. The first building block to exceptional teaching is to develop trust while gaining an understanding of a child's learning styles and unique needs. A small class size is essential to a good education. Today, the public school system is burdened with large class sizes, students with poor support systems at home and failing classroom behavior. While this prevents the teaching of material, the true obstacle is that a personal connection between scholar and teacher can never be established. Teaching is an interpersonal relationship, If this connection fails, then what is being taught will not be absorbed deep in the the minds of the student. Likewise exceptional education is a lifelong thirst for learning. "Teaching is not a lost art, but dignity and respect for teaching is a lost tradition." Fewer people today have a positive comment about teaching and believe the educational systems has lost it's way. This is because the system has lost sight of the human connection required to achieve great teaching. At American Heritage Academy our staff knows that it is a privilege to teach. We understand our stewardship to educate tomorrow's society and we consider it an honor to be entrusted with the duty of teaching.
Building Character is the primary goal and objective in a quality education. Most great teachers are not manufactured but instead have a God given talent to teach and inspire others. Virtue resides in the soul and not in the mind of an individual. It comes from the depths of our being to be good, to seek honor, to achieve. Character comes from exemplary mentors in our life, not teachers, not a curriculum, but from a bond and respect for another that cause us to tap into the God like qualities we possess."