Outstanding Iowa Test Scores of AHA Scholars
Outstanding Iowa Test Scores of AHA Scholars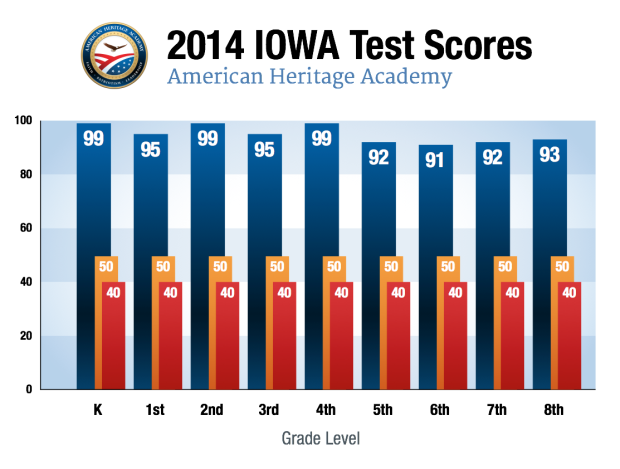 Every year American Heritage  Academy scholars take the Iowa Test of Basic Skills (ITBS: Iowa Test of Basic Skills). This test has been the preferred choice of educators since 1935. Each year scholars are measured against the nation's students to ensure that instruction at American Heritage Academy exceeds the highest standards of education in the United States. We are proud of the accomplishments by our students and faculty; once again test scores have proven that the American Heritage curriculum provides an exceptional learning experience. National averages are represented by a mean at the 50th percentile. The top school district in the country boast scores in the high 60's.
Nevada schools no longer offer the ITBS test (Iowa Test of Basic Skills) to students. In 2010, after many years of declining numbers, Nevada school districts posted dead last in the United States with a 42nd percentile on the ITBS test. This educational failure caused the State Board of Education to write their own testing model. This customized test now prevents Nevada schools from being compared to more traditional national standards.
The American Heritage Academy's "Classical Education" allows for your child to learn core subjects such as Math, Reading, Literature, Geography, Science, Art, Liberal Arts, and Language at a level that far exceeds public education. Most scholars from American Heritage will leave the 8th grade three grade levels ahead of their peers in public school.
Here are this year's test results, we invite you and your child to be a part of American Heritage Academy and begin the process of learning.